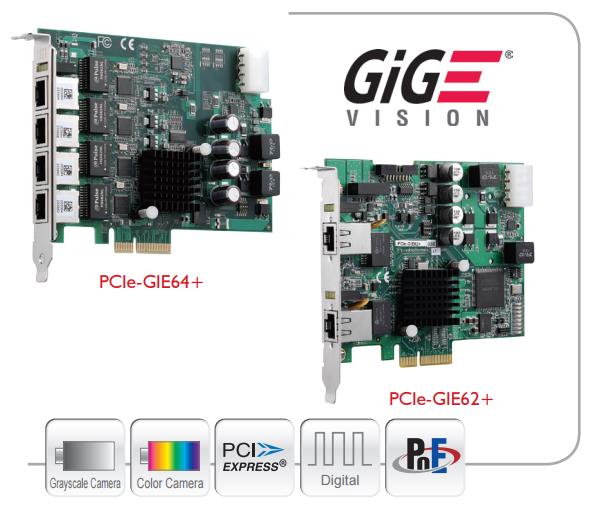 Introduction
ADLINK's PCIe-GIE64+/PCIe-GIE62+ are PCI Express® x4 lane, PoE (Power Over Ethernet) frame
grabbers supporting 4/2 independent Gigabit Ethernet ports for multiple GigE Vision device connections
with data transfer rates up to 1000 Mb/s, as found with most GigE Vision cameras.
In addition, the PCIe-GIE64+ provides smart PoE APIs allowing remote switching of PoE status. With this
feature, camera power consumption is easily monitored and controlled, controlling camera temperature
and extending lifetime.
PoE Technology
The PoE (Power over Ethernet) technology in the PCIe-GIE64+/PCIe-GIE62+ provides automatic detection for stable and reliable connection between PoE or non-PoE cameras and frame grabbers.
Benefits of PoE
• Simplified installation
• Lowered maintenance
• Reduced total cost of ownership
Features
■ PCI Express® x4 compliant
■ Support for 4 / 2 independent Gigabit Ethernet ports
■ Support for smart PoE function, enabling easy power status programming (PCIe-GIE64+ only)
■ LED indicating connectivity status
■ Up to 20 W PoE power supply from PCIe bus (PCIe-GIE64+ only)
■ Support for IEEE 1588, PTP technology (PCIe-GIE64+ only)
■ Support for IEEE 802.3af for PoE (Power over Ethernet)
■ Support for link aggregation/jumbo frames (9 KByte)
Applications
■ Machine vision inspection systems
■ Scientific research instrumentations
■ Medical research instrumentations
■ Intelligent transportation systems
Software Support
• Windows® 8/7/XP (Windows® 8 support available only on PCIe-GIE64+)
Ordering Information
■ PCIe-GIE64+
4-CH PCI Express® power over Ethernet frame grabber
■ PCIe-GIE62+
2-CH PCI Express® power over Ethernet frame grabber
with digital I/O and trigger I/O
■ PCIe-POE
2-CH PCI Express® power over Ethernet frame grabber
without digital I/O and trigger I/O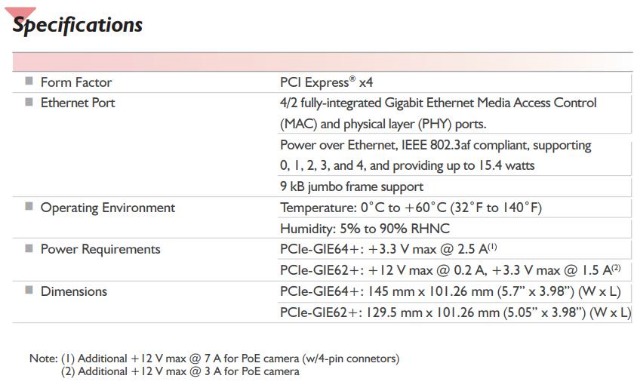 설치 드라이버 다운로드