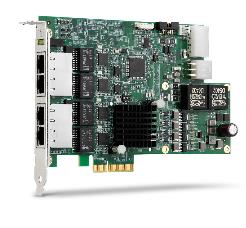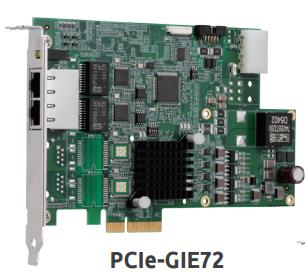 PCIe-GIE72/74
2/4-CH PCI Express® GigE Vision PoE+ Frame Grabbers
Key Features
Introduction
ADLINK's PCIe-GIE72/74 PCI Express® PoE+ frame grabber supports


2/4CH independent Gigabit Ethernet ports for multiple GigE Vision
connections transferring up to 1 Gb/s per port. PoE+ provides
up to 30W power and automatic detection for stable, reliable
connections, reducing costs, simplifying installation, and easing

maintenance burdens.
Machine vision superiority with guaranteed non-drop frame grabs
Any number of PCIe-GIE7x series cards can be installed in a single system without occupying any BIOS I/O resources, enabling multi-card single-system non-drop machine vision frame grabs. range supports integration with fanless computer for IA applications in harsh environments.
Exclusive Comprehensive PoE protection secures assets
Exclusive comprehensive PoE protection design protects card and camera from overcurrent and overvoltage events. Automated power budget control adjusts PoE port power supply automatically, avoiding equipment damage.
Smart PoE management
Easy-to-use utility and API provide real-time PoE status monitoring and control, lowering maintenance costs and predicting possible failure in advance, while PoE power priority selection and PoE-based power on/off support more demanding applications.
Ordering Information
PCIe-GIE72

2-CH PCI Express X 4 Gen2 PoE+ GigE Grabber with Intel I210IT, PoE Protection, PoE Power Management

PCIe-GIE74

4-CH PCI Express X 4 Gen2 PoE+ GigE Grabber with Intel I210IT, PoE Protection, PoE Power Management
설치 드라이버 다운로드